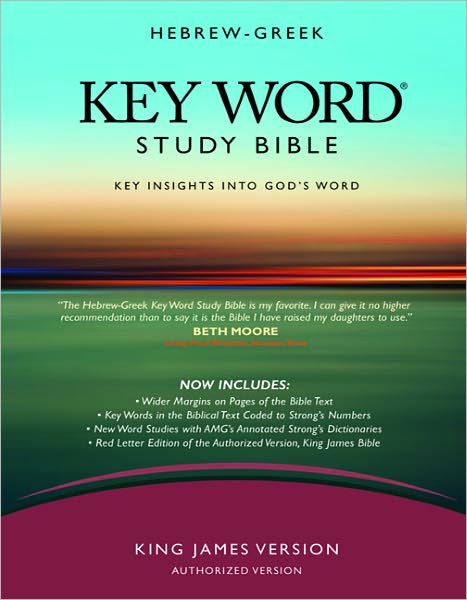 Hebrew-Greek Key Word Study Bible Review
This is indeed my favorite Study Bible. I bought this Bible sometime this year (2016) and have never regretted buying this Bible as it have been very helpful in my studying of the Bible.
I am a Bible Study teacher at my church therefore you can understand that I need a very good Study Bible, and I am happy to say that my Hebrew-Greek Key Word Study Bible is just that one.
See my post on: Tools To help you study the Bible
Every one who really wants to read and understand the Bible knows that they're times that you will be reading a verse and see a word but your not so clear on the meaning of a certain word. One word misinterpret or misused can totally cause you to misinterpret or to misunderstand what the verse is actually saying. With Hebrew and Greek Key Word Study Bible you will be able to know and understand the underlying Greek or Hebrew word used in each particular verse. By knowing the original word used and its meaning you will be in a better position to understand what the Bible is actually saying and thereby be better able to teach or tell someone about the Bible.
"The Hebrew-Greek Key Word® Study Bible identifies "the key words of the original languages and presents clear, precise explanations of their meaning and usage. Those who love God's Word will treasure this Bible, for it contains a whole library of biblical helps within its covers." From the sales page on Amazon.
Unlike other Study Bible, Hebrew and Greek Key Word Study Bible gives you the tools you need to do your own study of the original languages rather than just giving you commentary on specific verses. So you get two for the price of one: commentary on Bible verses and Greek and Hebrew words used in the verse.
And if you do not want to use KJV this Bible is now available in ESV.
So let us look at some other things about this Study Bible
The Bible comes with:
Introductions of the different books of the Bible This covers the history and customs of the people the book was written to or about, and gives information of the significance of the book.
Scripture Index- This is basically a list of Scriptures that the footnotes and book introductions reference. This shows which verses have a footnote and what other verses they can go to for more information. This works like a cross-reference system for footnotes.
Concordance. You absolutely should never buy a study Bible that does not have a concordance at the back. We use  a concordance for cross-referencing, which is basically determining where else the author used a particular word.
Annotated Strong's Hebrew and Greek Dictionaries- This is what sets Hebrew-Greek Key Word Study Bible a part from all other Study Bible, at least that is just my opinion, you can always disagree if you want, but I love this section above all other sections, I not even use the dictionary and concordance much. This is the reason why I bought this Bible. This Bible don't just give you notes on Bible verses, but it gives you the tool to help you study, and this is a great feature that every one using this Bible will find themselves using often. There is a lot of detail in the annotations, but these can be bias as they are base on the scholars point of view, but with the use of Hebrew and Greek Dictionaries you can quickly decide for yourself what is facts or bias.
Maps- I am strong believer that Study Bibles should carry maps, and this one no doubt has them, which may prove useful to you, though I have never used them because I have found no use of Bible maps, at least for now.
So what are the Pros and the Cons of this Bible?
Pros
Strong's Hebrew and Greek dictionaries
Contains tools to help readers learn Hebrew and Greek
Wider Margins on Pages of the Bible Text
Cons
Does not have a lot of notes on verses, even some verses that may prove to be a little difficult to understand
Print quality varies
And I guess I am not the only who things this is a great study Bible to have base on its many positive reviews on Amazon. For example:
G.M. Wolford said "This is probably the most useful study Bible I have. Having the Greek and Hebrew numbers right by the words in the text and the concordance and dictionary in the back makes digging deeper into God's Word so much easier. The grammatical guide to the New Testament words are a wonderful help as well. It allows you to get the truest sense of what the author was trying to convey. The book introductions and 'keys' are informative. There are many cross-references included that are helpful, too."
Someone name Researcher said, "If you are really serious about studying the Bible, I believe that this is a Bible that can help if you use it "religiously." As noted, it gives both Hebrew and Greek explanations and definitions. The key words in the text are numerically coded to James Strong's Exhaustive Concordance of the Bible (noted in the introduction). It has a Concordance of its own to the Old and New Testaments. It even has a guide to transliteration from Greek to English with modern pronuciation guidelines."
These are just two of the reviews about this Study Bible, but it seems as if one of the concern that most persons who use this Hebrew and Greek Study Bible is of the paper quality. I personally don't have a concern about it as it doesn't matter, didn't even knew it was an issue until I started reading some of the reviews by other persons who bought it. But I don't think you will have a much problem with using Hebrew-Greek Key Word Study Bible.
Conclusion
I have to conclude that this is a great Study Bible that I believe every student of the Bible, and those interested in getting a better understanding of the Bible should have. The Hebrew Greek Key Word Study Bible is a great tool for learning and using the Hebrew and Greek language in Bible study and teaching. You could also check out the ESV version of this study Bible.
Well that is my opinion of this Bible, what do you think?
Click the image below to get your copy: