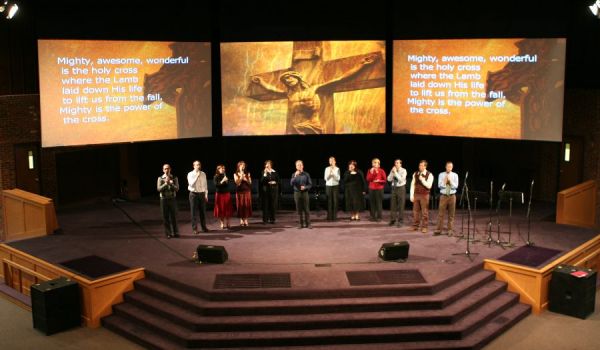 10 Tips for Buying a Video Projector for Your Church
If you're looking to get started with video projection for your church – we've got some great tips.
I said it already, and I will say it again, technology is changing how we operate in our daily life and if the church doesn't try to apply the use of technology in the church then we will be left behind. Video projector is one of such technology that if you have the resources and see the need you should get one. If you and your team is planning to start video projection in your church, here are some great tips to help you get started.
Tips in Buying a Video Projector
Why does your church need to buy a projector? What purpose will it serve, will it help to enhance the services? Can your church afford this one time expense at this time? Before you run and buy a projector, or even discuss it with your team, these are just few of the questions you and your team should start discussing. A projector can be use to make announcement, show lyrics of a song, show a presentation and so forth.
After you have decided that yes your church is in need of one, now you have to think about where will you put the projector screen?
What size of a projector screen do you want? If you are especially a mega church or have a lot of members, you definitely need one of those screens.You don't want the words to be too small so people cannot read the words from where you were sitting.
Once you know the size of the screen and what you want to do with a projection system, you can get an idea of which projector would work best and where you will also put it.
You already know where you want to put the screen, now you need to decide the best place to mount a projector that will put it in directly in front of the screen. You will also have to account for ventilation and fan noise.
Determine the throw distance to the screen and the throw ratio you will need in a lens. The throw ratio is the distance to the screen divided by the screen width.
Some churches will only need one projector while some will need more than one. You will have to consider how many projectors you will need and if they be synched to show the same things.
You will also have to consider how will the projectors be wired to processors and cameras. You will also have to consider where you will place this equipment. You will need to put your equipment(s) in a safe area that allows you to safely run wires.
Before you can run these equipments you will need to have the right connections from cameras to processors to projectors.
You will have to consider who will be responsible for operating the projection system and the equipment, and who will be his or her assistant. You need to have a dedicated personnel or small team that will be responsible for cameras (if any) and projector equipments.
Having a projector in your church will greatly improve your church services, but you will have to ensure you select the right one that will fit your needs.
Top 5 Video Projectors
1. Sony VPL-VW300ES
Projection system: SXRD | Resolutions: 4096 x 2160 | Brightness: 1,500 lumens | Video inputs: 2x HDMI 2.0 (1x HDCP 2.2), 1x S-Video, 1x VGA | Dimensions:496 x 195 x 464mm
Pros                                                         Cons
Fast response times                                  Very expensive
Excellent upscaling                                    Huge
For that proper cinematic feel it's hard to beat a big screen projector, especially one that's capable of filling a wall with 4K images. I would definately recommend you get this projector if your church can afford its price tag
2. BenQ W1070+
This projector comes with full HD images that impress even in ambient light make BenQ's latest a bargain beamer for all seasons.
Projection system: DLP | Resolutions: 1920 x 1080 | Brightness: 2,200 lumens | Video inputs: 2x HDMI (1x MHL), 1x RCA, 1x Component, 1x VGA | Dimensions: 312 x 104 x 244mm
Pros
Clean, detailed Full HD
Bright enough for daylight
Con
Judder
Lacks convenient lens shift
Edging ever closer to the plummeting price of a decent flatscreen TV, the BenQ W1070+ DLP projector offers enough brightness to be used in daylight as well as the all-important Full HD resolution.
If you're wondering whether to take the plunge and make a projector your go-to display for films and games, the W1070+ is a certainly bold and bright enough – and easily one of the best value entry-level projectors around.
Check it out: BenQ W1070+
3. Sony VPL-VW520ES
The Sony VPL-VW520ES has stunning images with unprecedented future-proofing.
Projection system: SXRD | Resolutions: 4096 x 2160 | Brightness: 1,800 lumens | Video inputs: 2x HDMI | Dimensions: 495.6 x 195.3 x 463.6 mm
Pros
Spectacular picture quality
Quiet 'Eco' lamp setting
Cons
Occasional convergence issues
No 3D glasses included
If you can afford it, the VW520ES rewards you with the most future-proof specifications and, for the most part, best picture quality the home cinema world currently has to offer.
If you want the full 4K HDR home cinema experience, and can stomach the nigh-on £9K price tag, then this is the pinnacle of home beamer brilliance.
Check it out: Sony VPL-VW520ES
5. Optoma HD36
If you are looking for a low cost projector then Optoma HD36 is an ideal, low-cost, beamer for everyday use, even in daylight.
Projection system: DLP | Resolutions: 1920 x 1080 | Brightness: 3,000 lumens | Video inputs: 1x HDMI 1.4a, 1x S-Video, 2x VGA, 1x Composite, 1x DVI-D | Dimensions: 386 x 162 x 280mm
Pros
Quiet operation
Smooth motion handling
Cons
Only one HDMI
Fiddly focus ring
Optoma HD36
is a cost effective video projector for those churches that really cannot afford the high price projectors out there and just want a projector that can get the job done
A searing brightness that is most unusual on a home cinema projector make it possible to watch films, TV and games in the middle of the day, whatever the ambient light levels.
Boasting great colours, superbly bright images and yet somehow also decent black levels, the HD36 is as versatile as it is good value. Although it's no looker, and its sole HDMI input may be a concern to some, this do-it-all projector is ideal for semi-permanent home cinema.
Check it out: Optoma HD36
You can check out other low cost video projectors on Amazon